You are here:
CPD Provider Directory
bulthaup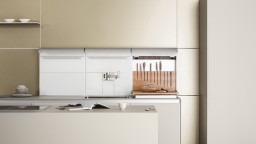 Carolyn Arnold

Tel:

020 7495 3663

Address:

bulthaup

37 Wigmore Street

Mayfair

W1U 1PP

London
CPD course title:
Living Spaces
CPD Fees: £0.00

CPD Duration: 1 hour

CPD Venue: 37 Wigmore Street, Mayfair London, W1U 1PP
CPD overview
'Living Spaces' - This CPD explores the development of kitchen design over the past 70 years and explains how kitchen furniture has evolved to address the current place that the kitchen holds as part of te living space. Factory processes are also explained to give an understanding of the different materials and techniques used today including: veneer / solid wood, laminate, lacquer, aluminium, laser edge welding, monobloc manufacturing. There will also be Insight into the individual planning of kitchens in living spaces.
To find out how to book this CPD please call or email Carolyn Arnold, 020 7495 3663 / carnold@bulthaup.co.uk
---