You are here:
CPD Provider Directory
Larkbury Curtains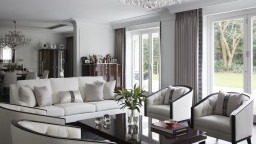 Contact
Wasif Masud

Tel:

0208 752 8933 ext. 2811

Address:

The Sofa & Chair Company

1 Western Avenue Business Park

Mansfield Road

W3 0BZ

London
CPD course title:
Bespoke Curtain Training for Interior Designers
CPD Fees: £0.00

CPD Duration: 2 Hours

CPD Venue: The Sofa and Chair Company, 1 Western Avenue Business Park, London, W3 0BZ United Kingdom
CPD overview
Interior Designers are invited on this interactive seminar on how to create beautiful window dressings, from design to fabric selection and manufacturing techniques, right through to install and dressing. In-depth practical advice and real-life showroom examples bring the many possibilities and considerations to life. In this on-site CPD workshop, designers will be given a guide to curtain & window treatments by exploring:
Selection
Design solutions for different window types and interior styles
Composition of fabrics best suited for specific applications
Technical Aspects
Manufacturing techniques for curtains and blinds in detail including linings and interlinings
Outline of the difference between hand versus machine finishes
Calculations
Considerations for treatments as dictated by heading types
Choice of Hardware Pattern
Repeats
Site Survey
Essential guides to measuring on site
Tools required
Considerations to be made
Installation
Dressing solutions for beautifully finished window treatments
Steaming techniques
To book this CPD, please email Wasif on info@larkburycurtains.co.uk or call 0208 752 8933 ext. 2811.
IMPORTANT HEALTH AND SAFETY GUIDELINES
We're really pleased to be able to welcome you to our showroom. As we're sure you'll appreciate, we're operating rather differently at the moment in light of the COVID-19 outbreak, and ask that you adhere to our guidelines which we've put in place to protect both our employees and our clients. Prior to the seminar, we ask that you confirm that you:
Are not experiencing any coronavirus symptoms.
Have not been asked to self-isolate according to government guidelines.
Have not knowingly recently come into contact with someone who is experiencing symptoms or tested positive.
Upon your arrival to the showroom, we will;
Ask you to sign in using contact details on our iPad, which is wiped down and disinfected after any use.
Ask that you wash your hands using the facilities nearby our reception area.
Record your temperature to ensure that it doesn't exceed the average.
Ask you to wear a face mask that must be worn for the duration of your visit.
Provide your contact details to the NHS Test and Trace programme by scanning the NHS QR code at reception.
All the above requirements are asked of our employees and clients alike, and we are therefore unable to accommodate anyone who cannot meet these necessary steps. Whilst we acknowledge that these guidelines are not ideal, they are nevertheless non-negotiable in order to foster a safe environment for both our team and those who are visiting. Please expect that in return, our employees will maintain respectable social distancing and wear a mask during your visit.
Larkbury Curtains can be found in The Sofa and Chair Company showroom in North Acton, London. After the seminar, be sure to leave time to explore the vast surroundings of this impressive site.
---
CPD course title:
Bespoke Curtain Training for Interior Designers (Online)
CPD Fees: £0.00

CPD Duration: 2 hours

CPD Venue: Online

Regions: Worldwide
CPD overview
Interior Designers are invited on this webinar explaining how to create beautiful window dressings, from design to fabric selection and manufacturing techniques, right through to install and dressing. In-depth practical advice and real-life showroom examples bring the many possibilities and considerations to life. In this virtual CPD workshop, designers will be given a guide to curtain & window treatments by exploring:
Selection
Design solutions for different window types and interior styles
Composition of fabrics best suited for specific applications
Technical Aspects
Manufacturing techniques for curtains and blinds in detail including linings and interlinings
Outline of the difference between hand versus machine finishes
Calculations
Considerations for treatments as dictated by heading types
Choice of Hardware Pattern
Repeats
Site Survey
Essential guides to measuring on site
Tools required
Considerations to be made
Installation
Dressing solutions for beautifully finished window treatments
Steaming techniques
To arrange an online viewing of this CPD, please email Adele on info@larkburycurtains.co.uk or call 0208 752 8933 ext. 2876
---