You are here:
CPD Provider Directory
Renson Fabrications Ltd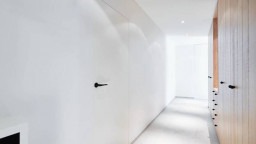 Stephen Badgery

Tel:

07720 095 033

Address:

Fairfax Units 1-5

ME15 9SF

Maidstone
Details
Cost: £0.00

Duration: 1 Hour

Regions: National
Invisible Concepts to Create Minimalistic Interior Design
Due to the growing importance of minimalist interior design during the recent years, our company has been focusing on the development of an invisible door concept.
The door has changed from a basic joinery product into an interior defining design object. A door 100% flush with the wall offers interior designers the possibility to create a timeless and uniform design, and the frameless door itself offers a multitude of benefits compared with a traditional standard door.
In this CPD you will take away a better understanding of why the interior door trend is changing, what solutions are available for design-orientated interior doors, the concept behind invisible door frames and how to specify, install and finish them and also the growing importance of minimalistic interior door design in the future.
Please email Stephen Badgery to arrange a visit to your studio