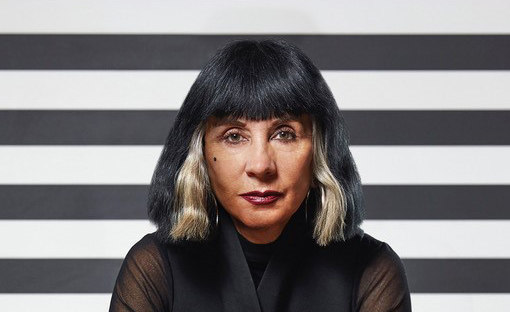 Sue Timney has worked in Britain, Europe and Japan for over 30 years creating interior projects celebrating her own brand of exotic classicism under the TIMNEY FOWLER and SUE_TIMNEY banners.
The work ranges from commercial and residential interior architecture to product design for interiors and fashion. She was made a Visiting Professor and Honorary Fellow of the Royal College of Art in 2007 and also holds the Textile Institute's Design Medal and was nominated for the Prince Philip Designer's Prize by the Royal College of Art. From 2012 - 2014 Sue was President of the British Institute of Interior Design (BIID) and is she is currently a director of BIID and Trustee of the Ashley Family Foundation.
In 2002 alongside the TIMNEY FOWLER brand - the SUE_TIMNEY design practice was set up to work on specialist interior and product projects. A retrospective of Timney's work was held in 2010 at The Fashion and Textile Museum in London together with the launch of her book Making Marks - a design biography. The House of Fraser launched the TIMNEY brand for Home and Fashion in 2011 and her work was exhibited in the Postmodernism: Style & Subversion 1970-1990 exhibition at the Victoria & Albert Museum. Sue's designs in 2012 were exhibited in the V&A's 'British Design 1948-2012: Innovation in the Modern Age' and '175 years at the Royal College of Art'. Her work was also exhibited in the powerful 'Club to Catwalk: London Fashion in the Eighties' show at the V&A Museum in 2013.
The 100th programme of Grand Designs - The Water Tower in Kennington - was a huge restoration project designed in collaboration with the owners by the SUE_TIMNEY practice and nominated for a BAFTA in 2013. Sue is also a consultant and presenter for Television specialising in interior design and textiles. SUE_TIMNEY's recent and current clients include The World Wildlife Fund, Sam Mendes, The Churches Conservation Trust, Marks and Spencer, and the Sir John Soane's Museum. 2019 sees the international relaunch of the original TIMNEY FOWLER the much celebrated brand - with her new TF partner, Fleur Curzon.
Sue is Director of Sue Timney Ltd.