You are here:
Architexural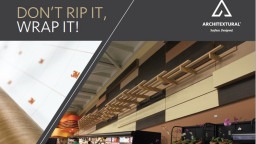 Profile
Architextural, part of William Smith Group 1832, are the leading trade supplier of vinyl films to the sign, graphics and interiors industries for over 100 years. Suppliers of all architectural and building related films, from decor both inside and out to solar and security window films.
Looking for an alternative refurbishment solution? Self-adhesive films could be a simple and cost effective alternative for your interior design projects. Looking for a supplier? We have a network of fully trained applicators who will be able to supply and install your projects.
See. Replica finishes that are hard to distinguish from the real material. Touch. Textures that enhance, uplift and transform interiors. Feel. Create amazing spaces and high quality customer experiences at a fraction of the cost.
Refurbishment is generally 1/7 of the cost compared to "making it new". Experience has demonstrated that in all market segments refurbishment with 3M DI-NOC self-adhesive films provides a budget friendly solution with high quality and excellent results.
One of the main benefit for offices, banks, public bars, restaurants,.… is that they can keep their activities open. Disruption in the day to day activity is minimized. Clean, fast and easy application with no planning regulations.
For anyone looking to learn how to apply the films, application training courses are available to become part of our growing installation network. We can help to bring designers and installers together to bring projects to life.