You are here:
Registered Interior Designer®
Benjamin Clarke
Curve Interior Design Ltd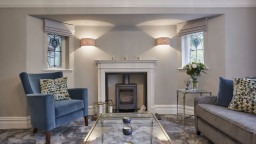 Profile
Curve are a Manchester based practice, specialising in modern, high-end interior design.
Our impressive portfolio includes projects ranging from high rise city penthouses, architect designed country residences and spectacular villas in the sun.
Involvement begins with presentation of concepts and product suggestions using CAD layouts and design boards. The scheme is then developed through close contact with the client. We manage the project, liaising with suppliers and trades to provide professional and efficient realisation.
We personally oversee all aspects to ensure completion within time and budget, working hard to achieve results that satisfy even the highest expectations.
Curve are continually influenced by all aspects of international design and local culture. We are committed to supplying the world' s leading interior brands. We specify from hundreds of highly respected UK, European and worldwide manufacturers to put together schemes suiting each client' s exact requirements. We are an approachable team who are immensely proud of our passion for design. Our diverse product knowledge ensures that all interior projects are individual, exclusive and completed to the highest possible standard.