You are here:
Registered Interior Designer®
Carolyn Parker
Carolyn Parker Interior Design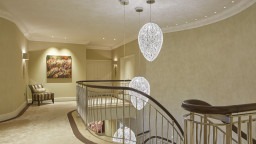 Profile
Carolyn has a successful design practice that has been designing homes all over the world for the last thirty years. She prides herself on attention to details and making the Client's dream a reality whilst keeping the integrity of the building.
With her unique and admired style, Carolyn has travelled the world and built a comprehensive portfolio of projects ranging from Manhattan apartments, Georgian farmhouses, Grade 1 and 2 listed buildings and barn conversions to exclusive villas in Spain and Portugal.
A regular contributor to both television and radio, Carolyn has earned her place as a well respected voice in the design press.
Carolyn' s creative talents ensure every project she works on is uniquely breathtaking with an attention for detail that is second to none. Her extensive knowledge means she frequently designs bespoke pieces of furniture working closely with some of the best joiners and craftsman in the county and throughout Europe.