You are here:
Chatelaine Interiors Ltd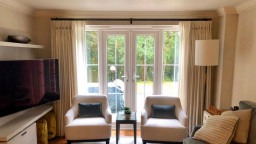 Contact
Stef Douthwaite
Tel:

07515420929

Web:
Profile
Stef Douthwaite founded Chatelaine Interiors in 2012 having gained a BSc (Hons) in Textile Design and Design Management. Stef began sewing at an early age and has always been fascinated in the process of sewing from taking an idea and measurements through to creating a window dressing that it totally unique and beautiful yet still form and function.
Stef provides a very personalized service appreciating that each client is individual. Through taking the time to get to know her clients to understand their tastes and needs Stef will help them with the right balance of creativity and practical guidance.
In 2014 Chatelaine Interiors expanded to incorporate the Swindon Based Complete Curtain Service, enabling Stef to offer her bespoke specialist services to a wider area.
Chatelaine Interiors commissions have included country houses, boutique hotels, town houses and apartments and working alongside developers for new-build developments.
Her small team, based in a new studio in beautiful Berkshire, share her passion for exquisite craftwomanship. They are dedicated individuals specializing in high quality, bespoke hand made soft furnishings.