You are here:
Registered Interior Designer®
Christy Austin
Austin Interior Design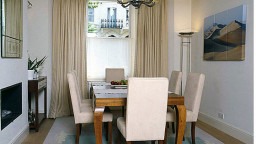 Profile
Austin Interior Design consistently combines the practical and the creative to make spaces function as they should and visually delight the people for whom the spaces are created. Christy Austin, with her qualified and talented team, gives to clients more than they ask.
Christy was born in the USA and earned her Master of Fine Arts from Mills College near San Francisco. She has designed interiors for clients in the USA, South Africa, France, and in England where she has lived for the past 25 years. Having qualifications in both interior design and fine art give her unique approach to making each interior design project very special, with sound space planning and architectural detailing ensuring the space works as the client wishes.
'We design an interior for you, our client, which will be to your taste and needs and we will make the process to get there an organised and most enjoyable adventure.'
Projects: Houses and flats in Chelsea, Kensington, Westminster, Clapham Common, Fulham, Putney, and Wimbledon; and in Chicago, New York and San Francisco Offices, shops, clubs and hotels in San Francisco, South Africa, England, Scotland and Paris