You are here:
Registered Interior Designer®
David Ackers
David Ackers Design Associates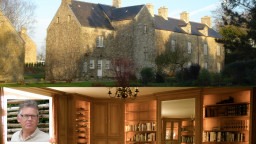 Profile
Est. 1987, David Ackers Design Associates specialise in French country and coastal interior and architectural projects. Typical challenges are centuries-old manor houses and their landscapes, specifying appropriate levels of craftsmanship and authenticity often using reclaimed materials & architectural salvage. Contemporary projects also undertaken, with emphasis on natural materials. Sole British member of France's Union Nationale des Architectes d'Intérieur - Designers. Co-author of best-selling "How to Renovate a House in France" (2004). Over 30 years experience in France we also assist as consultants, and with Olivier BERMOND dplg Architecte de Patrimoine get planning applications through tricky 'Architecte de Batiments de France' requirements. We help speccing & selection of appropriate antique & traditional materials for an international clientele. Call mobile +33 (0) 607019026.
Etabli depuis 1987 dans le département de la Manche, en Normandie, l'équipe David Ackers Design Associates est spécialisée dans la restauration, la rénovation et l'agrandissement de propriétés à la campagne ou en bordure de mer (souvent vieilles demeures de plusieurs siècles) en respectant leur authenticité. Nous réalisons également des projets contemporains, et nous sommes créateurs de mobilier. Portable 0607019026.
Principaux intervenants/ key members: David Ackers, Interior Architect, Architecte d'Intérieur-Designer UNAID N° 5001. BA (hons), MBIID. Olivier Bermond, Architecte dplg - Architecte du Patrimoine. Cecile Ackers, décoration et jardins.