You are here:
Samuel Heath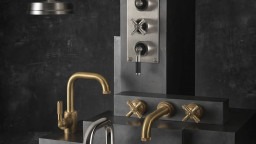 Profile
British manufacturing leader Samuel Heath is renowned for innovation and quality due to the exquisite in-house production indicating exceptional attention to detail and product perfection. The company signifies creativity combined with time-honoured craftsmanship and the latest technology and designs so as to offer a collection of beautifully crafted bathroom fittings and architectural hardware.
Key Collections
Samuel Heath offers a variety of key collections. All of Samuel Heath's pieces are made from solid brass and hand finished to create flawless products that unite form and function. Some of the company's latest collections include:
Style Moderne
Samuel Heath's most recent collection of taps and showers is inspired by the Art Deco movement from the 1920's and 1930's, one of the most significant eras in modern design. The title Style Moderne uses the original term for the Art Deco movement and the collection features key design elements synonymous with the period such as stepped forms, geometric faceted shapes and linear design, in a refreshing contemporary interpretation.
Style Moderne Luxe
Samuel Heath commissioned bespoke designs from an artisanal glass designer. The result is Luxe; a collection of individually cut glass controls in two shapes: a faceted barrel-shaped lever, and a flat roundel. Both designs capture the essence of the Art-Deco era; straight lines, rectilinear forms and geometric shapes. The finished controls are hand polished for an elegant, light-reflecting finish encapsulating the glamour of the era.
Fairfield Crystal
Inspired by the rich heritage of the Arts and Crafts movement, Samuel Heath's Fairfield collection offers a luxurious design that delivers an element of personality and attention to detail, whilst also having a classic and timeless style. We have recently added a glamorous twist to the collection, combining the subtle, softer luxury of the Fairfield design with stunning hand-cut crystal levers.
Xenon Black
Samuel Heath's contemporary Xenon collection of taps, showers and accessories has become a design classic specified by interior designers for both private residences and luxury hotels worldwide.
Landmark
The development of Bauhaus unfolded in tandem with a time of great design and manufacturing creativity at Samuel Heath. It is this historic context which underpins the provenance, authenticity and authority of our Landmark collection. Landmark consist of two distinctive collections: Pure with its well-balanced, concise and direct lines and Industrial with its contemporary, bold and urban styling.