You are here:
Registered Interior Designer®
Debbie Gee
DG Interiors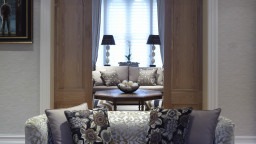 Profile
Debbie is known for being flexible, reliable, and efficient, and whilst she has no set house style, Debbie loves the challenge of adapting to each Clients individual requirements. She enjoys re-creating a Client's ideas whilst adding her own expertise and experience. She personally manages every individual project, and is always aware of and considerate of each Clients individual needs.  
Debbie believes good communication is key, and enjoys getting to know her Clients and building up trust to ensure smooth running of each project. She works within given timescales and a variety of budgets without compromising the design, and has several builders and suppliers to suit different projects. 
Since starting her Interior Design career in 1985, Debbie has worked with other Interior Designers on projects such as The Ritz and The Berkely Hotels, as well as themed restaurants, and houses for Hollywood stars. She set up her own Practice in 2001, when she specialised in London residential interiors and small Hotels, in the UK and overseas. 
Whilst many of her projects have been in London, the practice has recently relocated to Oxfordshire and is currently working on projects in London as well as  Buckinghamshire and Oxford.