You are here:
Dortrend International Ltd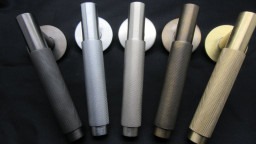 Profile
Dortrend International ltd was established in 1972 and manufactures its own designs of lever handles,pull handles and accessories at its new Worcester factory having recently moved from its Stourport premises at the end of 2017. We offer niche products in the Healthcare sector including ligature resistant and anti-microbial coating of any of our products.
We offer small batch manufacturing to a very high standard either to your design, our standard product offer or by customising our designs to meet your requirements which includes offering a very wide range of finishes including PVD,Electrophoretic laquer, antique bronze, bronze satin nickel the list is endless! We use the finest available materials including 316 stainless steel or 304, bronze, brass, aluminium all sourced in the UK.Our mission is to continue to manufacture high quality door fittings in the UK offering new designs on a regular basis to listen to customers and fulfil their expectations.
Dortrend has been selling its unique products for projects worldwide hitting tight deadlines and meeting stringent quality requirements for many years for more details please visit our web site or call us.