You are here:
Dudgeon Sofas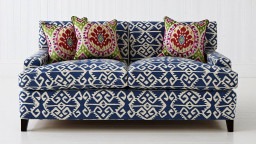 Contact
Hugh Garforth-Bles
Tel:

020 7589 0322
Profile
For the past 70 years DUDGEON has made bespoke traditional and contemporary furniture for super yachts and luxury residential properties.
With a team of highly skilled craftsmen, DUDGEON creates traditionally made sofas, chairs and ottomans to fit your every need – whether that is furniture suitable for outdoor use, an L or U-shaped sofa to fit an awkward space or banquette seating for a dining area.
Comfort is at the core of their designs and they offer a wide selection of cushion fillings from 100% duck down to a standard feather and down or reflex foam core with feather/down wrap cushion.
Visit their Fulham showroom to view a selection of 50 designs and to find your level of comfort.