You are here:
Edelweiss Pianos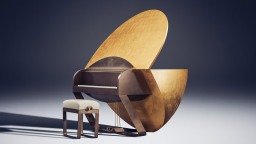 Profile
The Ultimate Statement Piece for any Interior- Edelweiss Bespoke Self-Play Pianos
For those who don't play and making music better for those who do
Bring your room to life with the power of live music
A custom built, player piano in your choice of colours, styles and finishes
Handbuilt in Cambridge, UK by our artisan craftsman
Edelweiss Pianos are available in three unique styles; the upright, the flugel and the sygnet (the world's smallest grand piano). Our creations are also available in a specific 'yacht - specification' with added benefits to those travelling to different climates.
We offer CAD files, rendors and detailed specifications as well as private viewings, workshop tours and webinars to our Interior Design clients, please view our latest information here.
All of our pianos come with self-play as standard along with a matching stool. We also offer climate control systems, playback and record and additional music, devices and many other benefits.
Speak to our specialist studio where our piano designers have over 30 years experience about creating your own special piano today.
View our 2021 lookbook here.