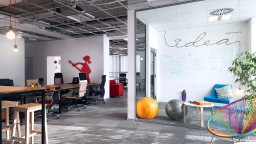 Profile
ESCREO write on - wipe off whiteboard paint is changing the way people work, innovate and decorate by improving workplace productivity and collaboration. Since 2015 ESCREO has delivered thousands of projects including office fit out and commercial refurbishment.
We have also partnered with numerous co-working spaces where we have improved the collaboration environment. Our educational projects cover schools, universities and training centres where we have improved the way pupils learn and communicate. And finally, we have boosted creativity, inspiration and productivity at home on any wall or smooth surface you can get creative with a pen in.
Our whiteboard paints come in white, clear/transparent and magnetic versions which can be adapted to any project based on the specific needs to turn the area into writable dry erase canvas. Our magnetic whiteboard paint allows you to not only write and collaborate but to also attach notes and magnets to any wall. Last but not least, we offer the accessories that you will need throughout the whole journey with ESCREO writable walls.