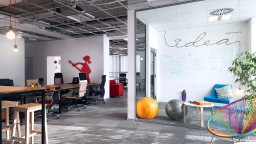 Profile
ESCREO write on - wipe off whiteboard paint is changing the way people work, innovate and decorate by improving workplace productivity and collaboration. Since 2015 ESCREO has delivered thousands of projects including office fit out and commercial refurbishment.
We have also partnered with numerous co-working spaces where we have improved the collaboration environment. Our educational projects cover schools, universities and training centres where we have improved the way pupils learn and communicate. And finally, we have boosted creativity, inspiration and productivity at home on any wall or smooth surface you can get creative with a pen in.
Our whiteboard paints come in white, clear/transparent and magnetic versions which can be adapted to any project based on the specific needs to turn the area into writable dry erase canvas. Our magnetic whiteboard paint allows you to not only write and collaborate but to also attach notes and magnets to any wall. Last but not least, we offer the accessories that you will need throughout the whole journey with ESCREO writable walls.
ESCREO Clean Air is the latest addition to our carbon neutral portfolio of functional paints. Our interior air purifying paint is infused with an enhanced mineral, which attracts and neutralises harmful pollutants, including VOCs, odours, air chemicals and carbon dioxide, to make walls breathable and provide an excellent competitive advantage to residential and commercial premises.
SUSTAINABILITY PARTNERS
ESCREO has set ambitious goals and is striving to achieve them as part of a climate protection strategy. The carbon neutrality of our goods and services is just another step that we achieved on our journey towards becoming the first carbon neutral whiteboard paint company by the end of 2022.
You can find more information on our roadmap to become the first carbon neutral whiteboard paint company.
Other interesting articles from our blog related to our sustainability efforts:
Looking for a sustainable partner on your next interior design projects? Or have any question regarding our whiteboard paints, acoustic dividers or anything else? Contact us, we love hearing from you.