You are here:
Extreme Design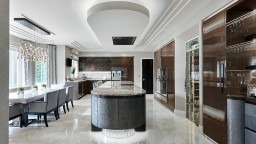 Profile
Designers of exquisite kitchens and furniture for around the home since 1993. Extreme is a family-run partnership with a reputation for creating individual kitchens and living spaces that allow people to enjoy living in their own unique way.
Born from artisanal and fine art roots, Extreme creates emotional connections by telling unique stories through design. It means that no two spaces will ever be the same – the only consistency is a passion to create something truly incomparable that goes beyond exquisite craftsmanship and materials. Our portfolio extends to all rooms within the home including dressing rooms, studies, libraries and bars, and our furniture can be found in some of the world's most desirable and exclusive addresses.
Our philosophy is simple: incredible only happens when the bounds of moderation are exceeded, and truly astounding design never comes from a catalogue. Our unwavering dedication to innovation, service and craft drives our continued growth as we consistently explore new territories to re-imagine the way living spaces are architected and built.
Marrying traditional craft techniques with modern technology, our original approach to design creates spaces of exceptional individuality, each with a story to tell. Nurtured through an original design experience, each Extreme piece celebrates the uniqueness of each client or project and complements the most extraordinary of living environments. Balancing originality with functionality, luxury with durability, and precision with extravagance. The personal design service is complemented by a superior and personal project management service which extends for the life of each piece.
We collaborate with property developers, interior designers, architects and private clients from our three studios in London, Buckinghamshire and Berkshire. Supported by a structured and agile logistics service, our creative collaborations have extended as far as Barbados and Russia.