You are here:
Registered Interior Designer®
Genny Henderson
The Room Company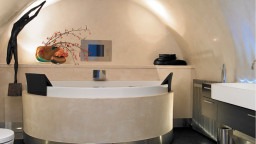 Profile
The Room Company is an established and well-respected purveyor of Contemporary Interior Design led by London design guru Genny Henderson from her studio in Marylebone.
Genny is regularly consulted by broadcasters and retailers alike, and has made no secret of her visionary Design Philosophy and penchant for unique, tailored interiors, offering her clientèle a wide selection of moods and styles rather than a continuous theme which can often result in a bland, uniform space.
This wealth of experience is not limited to architecture and decoration, but often includes the detailed design and manufacture of bespoke, one-off items of furniture which may play a key role in the delivery of an interior environment. 
As a Fashion Designer Genny developed her love of fabrics and materials as well as a keen and educated sense of structure and form with couture collections featured by retailers such as Harrods of London and Saks & Neiman Marcus of New York, but it was only when she strayed into the world of interiors that Genny really discovered her calling.
Today Genny Henderson and The Room Company are regarded by many of Central London's best known residents as something of a local treasure, and those who have benefited from her advice before will rarely consider making any change without first consulting with Genny.