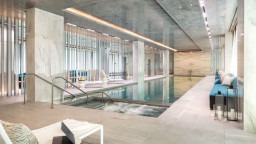 Contact
Joanna Lush
Tel:

01233 642 220

Web:
Profile
Overview Gx Glass manufactures, supplies and installs flat glass products designed to meet the needs of today's contract and commercial interiors. We work closely with interior designers, architects, developers and contractors to provide glass solutions for projects across the fit-out and joinery, furniture, and contract kitchen and bathroom industries, with glass applications within a huge variety of sectors - from hospitality to education.
We provide our customers with services that support the life-cycle of their project, and glass products that ensure their projects have cost effective, quality glass delivered on time. We believe in quality and peace of mind for our customers, and we back this up with our manufacturing capabilities, the very best materials, and technical knowledge from over four decades of experience. We have two UK-based manufacturing facilities in Kent, which allow large-scale volume glass production as well as one-off, design-led projects, and a team of subject matter experts ready to meet your glass requirements.
Our products include:
Back painted glass
Ceramic printed glass
Magnetic glass Mirrors
Decorative laminated glass
Our services include:
Sample provision
Estimating & tender response
Consultancy Services
On-site survey, supply and installation
Project management
Made to measure and bespoke manufacturing
Tailored delivery
Our product end uses include:
Wall cladding
Feature walls
Workwalls
Teapoints
Furniture Inlays and tops
Balustrades, shower screens and paritions
Prototyping
Given the endless combinations of processes, colours and finishes available in the market today, finding just the right glass finish for your project can be a time-consuming process; as part of our consultancy we offer a prototyping facility. We will work with you and review all of your functional and design requirements - define the glass finish using our customisable Gx Design Range products.
We will then finalise the specification and glass samples for approval. Specification Definition We understand that as a designer or FF & E specialist, achieving a final specification both on paper and as a physical sample which is fit for purpose both aesthetically, functionally and meets building lifecycle requirements can be challenging. We also know that UK-based interior designers quite often work on overseas projects and that suppliers in the UK are not always selected due to export costs or value engineering, and it can prove challenging to find like-for-like products in other countries, in terms of finish and quality.
Our consultancy service can overcome these challenges. We can help you define product specifications and produce samples for approval, either from our standard range or using our Gx Design range of customisable products. Having a defined specification also gives you peace of mind and enables you to brief the developer or contractor working on overseas projects to source a product which meets your pre-approved specification. With the help of our supply chain we can also put you in touch with overseas glass manufacturers with similar production capabilities. Involving us during the early stages of specification can help to ensure that the product is fit for purpose, and that the end result is a practical and cost effective finish.
For further information please contact Joanna Lush on joanna@gxglass.com or 01233 642 220.