You are here:
Heritage Bathrooms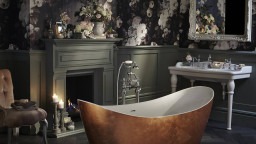 Profile
At Heritage Bathrooms, we believe that bathrooms can be an amazing space.  That's why we offer a range of stunning distinctive bathroom products designed to help create rooms that 'wow'.
Our core range has been carefully shaped over 30 years and centres on a beautifully designed collection of traditional and classic sanitwaryware drawing influence on the architectural grandeur of palaces, stately homes and concert halls of bygone eras.  It is complemented by a market-leading range of freestanding cast iron baths, pre-primed and hand finished ready for you to paint in whatever colour matches your scheme.  And, if you are looking for a lighter weight alternative to cast iron, you can choose from our large selection of freestanding acrylic baths, which includes a new range of metallic finishes in Gold, Stainless Steel and Copper.
Furniture, available in freestanding and fitted options provides a much needed solution to modern day storage issues and, with a choice of colours and handles, offers a further opportunity for personalisation.  A choice of coordinating taps, showers and accessories completes the collection.
Products are designed in-house at Heritage's UK head office in Staffordshire, England, and are available through a nationwide network of carefully selected retailers.  You can find your nearest displaying retailer by visiting our website at www.heritagebathrooms.com
An industry-leading Lifetime Guarantee is offered on all sanitaryware and baths (fitted and freestanding).