You are here:
The House of Upcycling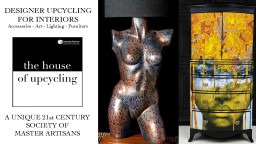 Profile
THE HOUSE OF UPCYCLING: Designer Upcycling for Interiors
The House of Upcycling has been the UK's leading authority on professional upcycling for interiors (commercial and residential) since 2014. Our professional designer-remakers create original art, furniture, lighting and accessories to an exemplary standard, reducing any negative impact on the environment to a minimum. With no two pieces ever being the same and only the finest materials and products used, we provide a design-led solution to the question of how luxury interior design responds to lifestyle changes and the concerns over reduction in resources and the environment. 
To assist BIID registered interior designers, we are pleased to offer a free sourcing service, whether for a particular item or for an artisan to commission. We want to encourage designers to consider the many benefits of including our innovative style in partnership with sustainability focus and further elevate their eco-expertise kudos with clients.
Every year we elect eight master upcyclers from our membership to represent the House of Upcycling as BIID Industry Partner Ambassadors. All Ambassadors are experts in their chosen field, successfully running their studios for at least 7 years. For 2023/4 these are (click through to their Projects pages for examples of their work):  
Chloe Kempster Design (Fleckney, Leicestershire) | Artisan: Chloe Kempster
Colour Me KT (Hoddesdon, Hertfordshire) | Artisan: Kate Holt
Dolly Fixtures (Lewes, East Sussex) | Artisan: Tracey Horan
Done Up North (Leeds, West Yorkshire) | Artisan: Nicky Cash
Lollipop Interiors (Tulse Hill, SE London) | Artisan: Tessa Doyle
Studio Twentyseven (Chelmsford, Essex) Artisan: Kata Roberts
Sue Gifford Design (Cork, Ireland) | Artisan: Sue Gifford
Webb & Gray (Margate, Kent) | Artisan: Carrie Webb
Our website directory - called The Director in tribute to Chippendale - lists our members, their location, provides images of their products with links to their websites and social media. The Show Room section features examples of our members work by category, including painted kitchens and upcycled vanity units. 
We take part in major interiors events such as Clerkenwell Design Week and the London Design Festival, have a wide-ranging client base including interior designers, architects and celebrities and update our range of services on a regular basis, Our latest offering is aimed at bringing professional upcycling to the corporate world with workshops, demos, talks, exhibitions and more available to book to support enrichment days, PR campaigns or as part of an entertainment and education programme.