You are here:
Registered Interior Design Practice
HUB Architects and Designers Ltd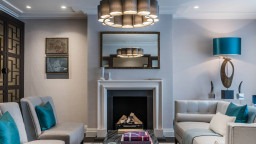 Profile
In 2006 Kate Spence and Simon Watkins co-founded Hub Architects and Designers enabling a smooth collaboration of Interior Design and Architecture skills in a single office. Kate leads the Interior Design department at HUB bringing 3 decades of experience in design. At Hub, Kate ensures that the interior- Architectural opportunities are not designed out in the early stages of a project. With careful consideration for the final outcome, she seeks to fully understand the interior spaces, the users requirements and the historical and technical context before embarking on the design. Any services, technologies and design accents are understood and brought to the fore in order to inform the delivery of a building's envelope and structure.
Kate values the input of clients, consultants and end users. Experience has taught her that open collaboration is crucial to the successful delivery of a project. With this attention to her clients brief and careful consideration of the social environment, ecology and budget, Kate designs places where people want to be.