You are here:
Registered Interior Designer®
Irene Gunter
Gunter and Co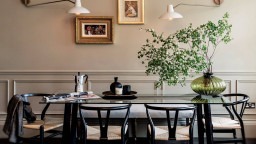 Profile
Gunter & Co is a Chelsea based interior design studio specialising in high-end residential and exclusive office design.
The studio was founded by its Creative Director Irene Gunter with the intention to offer clients the best in crafted luxury. Irene focuses on marrying the architecture of the building with colours and textures found in natural materials. The studio works with a worldwide client base; with projects ranging from Knightsbridge to the Cote d'Azur and the Cotswolds.
Every project has its own distinctive voice, each recognizing the clients' individuality as well as drawing inspiration from the location and the architecture of each property. Gunter & Co's designs reflect intelligent space planning and the team prides itself on its attention to detail. Each project takes the studio on a new journey through creative collaborations with specialised local craftsmen.
Irene and her team create a seamless journey from concept through to completion. She combines exacting standards with a warmth and informality which makes the whole process enjoyable and rewarding.