You are here:
Jack Trench Bespoke Kitchens & Furniture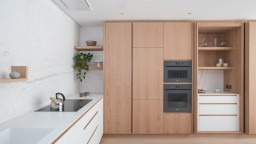 Profile
Jack Trench creates award-winning contemporary bespoke kitchens and beautifully crafted fine furniture. As well as being committed to meticulous craftsmanship and exceptional design, a strong emphasis is placed on the qualities of tactility and resilience in our choice of working materials – far and above the mere surface application of a paint or lacquer finish. 
We offer a completely personalised service from concept, planning and design through to manufacture, installation and aftercare. Our design-led approach is focussed on clear lines of communication throughout the design, manufacture and installation process and, from our factory and studio in North London, a team of designers, cabinet makers and site fitters is dedicated to delivering bespoke kitchens and furniture commissions of the very highest quality. Founder and director Jack Trench trained in industrial design and worked at an architectural practice before setting up the company in 2003. Since then we have maintained our ethos of delivering thoughtfully designed bespoke kitchens and furniture, growing from a small workshop before moving to our current premises, where we have now been based since 2006. In 2015, we opened our very first showroom in Islington and in June 2017 we made the move to our present showroom on Rosebery Avenue in Clerkenwell.
JT Design Portfolio
We offer a collection of in-house kitchen designs which perfectly encapsulates the clean lines, tactile aesthetic and contemporary detailing of our handmade bespoke kitchens. Each of these JT Designs - with their considered proportions, resolved detailing and innovative use of materials combined with traditional joinery techniques - can be applied to any kitchen project in a variety of different material combinations and finishes.
JT Furniture Portfolio
Alongside the design and manufacture of bespoke kitchens, we also make superbly crafted fine furniture. Whether from our own portfolio of JT Furniture designs or as one-off commissions, each piece reflects our dedication to the craft of fine cabinetmaking. Commissioning begins with an initial concept or brief and we will work with you to evolve this into a fully resolved design. The design development process for a custom bespoke piece can often include the drawing of hand sketches and renders, researching materials and finishes as well as the production of samples and prototypes where required. 
Clerkenwell Showroom
5a Rosebery Avenue,  London, EC1R 4SP
T. 020 3642 1775