You are here:
Registered Interior Designer®
Jane Dodson
KSD Design Company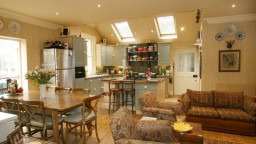 Profile
The company was established in 1982 in central London carrying out projects as mentioned previously. In 1996 the company moved to the country and continued working throughout the UK and abroad.
Jane Dodson is the main owner/director of KSD. Having finished her education she spent a year in Paris studying french literature and history of art, followed by working for an antique restorer in London specialising in painted & gilded furniture, japan/lacquer work and some picture/frame restoration. She then became a director of a creative advertising agency running the production department creating advertising campaigns and television commercials for prestigious clients.
The combination of classical restoration work and the more commercial requirements of the advertising world set her up with substantial knowledge to carry forward her passion for interior design.
KSD Design Company offers the full interior design service "from the chimney to the cellar" including consultations and design advice on all related topics. The company is able to source and acquire most items for residential or commercial projects and love the challenge of achieving the required end result.