You are here:
Joseph Giles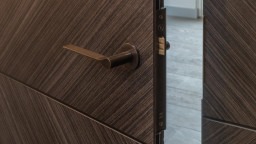 Profile
Joseph Giles are manufacturers and suppliers of luxury hardware for exclusive residential, hospitality and commercial construction projects across the globe. We service contractors, architects and interior designers involved in luxury and super-prime properties and developments. We began our business in 1998, importing mostly European brands and selling them to the UK market. At the time, one particular handle was being specified on most projects – a timeless design created by a Danish architect in the 1970s. While we loved the design (and still do today), we realised that it didn't suit every interior design scheme and there was an appetite for something different.
We began designing our own products, notably our 'Cube' lever handle, and while considered unconventional at the time, was an instant success and paved the way for us to design our signature collection, including the world's first contemporary leather-wrapped door handle in the process. For us, it's not just about how the products look, it's about how they work and feel. As they are used every day, they need to be comfortable and deliver a quality that can be both seen and felt. Our ethos isn't about the bottom line, it's about making products that we love and that our customers want to buy. We are proud of our British heritage and work with the finest craftspeople across the country to deliver exceptional products to our customers.
We don't believe in mass manufacturing, each and every one of our products has been lovingly created and hand-finished by artisans. Today we are recognised as world leaders in our field and something we are incredibly proud of. We provide a complete service whatever your requirements, from simple orders through to extensive door schedules, and our experts are on hand to guide you through your project every step of the way.