You are here:
Josephine Home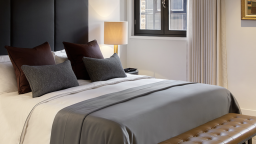 Profile
Josephine Home was launched in 2006 to provide the most beautiful bed linen and cashmere products to private clients. Very quickly, we generated a great many VIP clients, and in turn, their Interior Designers and Hotel Groups. We work with a lot of demanding and discerning customers, so outstanding customer service is in our blood. We aim to deliver a 'turnkey' service for the Interior Designers we work with, a seamless experience from the moment they call to the day we deliver their clients' products, beautifully labelled per room. 
As well as our extensive off-the-shelf range, Josephine Home is pleased to offer a bespoke service for Interior Designers, Hotels, Yachts and Planes who need non-standard sizes, finishes and colours. We can source items specific to your requirements - from bespoke bed linen to tailor-made bath towels and throws, there are endless possibilities that will leave you with a scheme that is perfectly made-to-measure. 
Bed linen and filled goods can be made to any size or shape. We offer a range of sateen or percale bed linen in 300, 500, 600 and 1000 threadcounts, all 100% Egyptian Cotton, made in Italy and Portugal.
As a perfectly understated finishing touch, our Classic and Draper London bed linen Collections feature a couture inspired grosgrain trim edging on the pillowcases and duvets and we have 35 different trim colours to choose from, or we can dye match our Grosgrain to a swatch if you would prefer.
Our Hemstitch Collection and other bespoke bed linens feature alternative designs, so we have all tastes and styles covered.
Our towels are made from a sumptous 600gsm weight, with super absorbant zero twist fibres, and are available in classic white, or with a contemporary Slate border. A monogram service is available for personalisation. 
Bespoke throws are available in multiple sizes, colour combinations and weaves, and we have 180 cashmere colours and 80 lambswool colours to choose from.
To understand more about what is available, please call 020 7751 0100 or email jo@josephinehome.co.uk to book an appointment at your home or studio.