You are here:
Registered Interior Designer®
Julie Kent
Julie Kent Interiors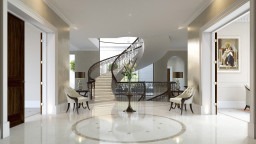 Profile
Julie Kent founded Julie Kent Interiors in 1980 following her interior design training in London at The Inchbald School of Design. One of her first projects was Design Assistant at The Theatre Royal, Bath, in the same street that she launched her studio and showrooms. Working from the beautiful Georgian City of Bath, Julie soon headed a team of designers undertaking projects from period homes to show homes, offices, shops, restaurants and hotels, specialising in period refurbishments around the West Country and London.
RESIDENTIAL
Julie Kent Interiors is currently designing contemporary interiors for the New Victoria Hospital in Kingston-Upon-Thames and a Kensington Town House in a traditional and contemporary style to suit the client's individual taste. Her past projects involve rennovating Doc Martin's infamous cottage in Cornwall. The three bedroom stone built cottage, which overlooks the harbour and the village, has been given a fresh, classic but stylish seaside feel with plenty of cool colours and painted woodwork. Simple striped and chequered textiles add to the nautical effect while large themed mirrors and clever lighting enhance the interior and draw attention to the stunning views of the sea which are a feature of all the principal rooms.
COMMERCIAL
Julie has been a IDDA/BIDA/BIID member for 25 years and works with leading architects, property developers, hoteliers, builders and surveyors and has gained a wealth of experience in co-ordinating interiors from the initial brief through to organising listed planning permission & building approvals, managing builders and specialist trades. Fun commercial projects have even included a nightclub and, following the birth of her daughter in 1990 launched the brand 'Kent & Carey' , children' s clothing shops, being nominated and awarded runner up for the Best Children' s Wear shop, UK" in 1999, now under new ownership.
Julie now runs an interior design practice - now celebrating 37 years of excellence -from Bath & London, with a loyal following of clients, designing both traditional and contemporary interiors to suit each client' s brief and budget! Julie' s first visit to site to meet with the client to discuss a project is no charge (within a 50 mile radius of Bath or London) & can be reached at the Bath address, above on Tel: 01249 715222 Or London Tel: 0207 166 7982.