You are here:
Registered Interior Designer®
Kelly Content
Concertus Design & Property Consultants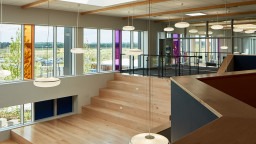 Contact
Kelly Content
Tel:

07710 920188

Web:
Profile
Working collaboratively with clients, consultants, contractors and end users to create buildings that are beautifully designed, inside and out.
Kelly is responsible for all aspects of interior design projects, from briefing and concept through to completion. Her designs progress from initial sketches to 2D and 3D design and visualisations. Her holistic approach to the design process means that she works closely with clients to gain a comprehensive understanding of their needs. This means that Kelly is able to optimise the use of space on her projects by balancing the environmental and physical requirements.
Kelly has 8 years of interior design experience and currently works for a multi-disciplinary practice working in the commercial, health, emergency, education and leisure sectors. At the early stages of her career she started working in the residential sector and designed prestigious bespoke kitchens, bedrooms and bathrooms.
The organisation Kelly currently works for has a diverse knowledge centred upon design excellence and construction understanding. This enables to achieve the best value and design quality for clients within the resources available for a project. Concertus Design & Property Consultants services include: -
CLIENT ADVICE
We work closely with clients to establish their aspirations and, after gaining an understanding of the business objectives, drivers and the challenges of the project, can articulate your needs and help to develop a business case.
FEASIBILITY STUDIES
We help to establish the viability of projects and can explore several possible options by generating feasibility studies that can be used in the early stages to support discussions.
SPACE PLANNING
An integral part of interior design, we work with clients to create spaces that can be used efficiently and effectively, whether accommodating special processes and workflows, or creating a desired image and atmosphere.
VISUALISATION
Our team includes skilled designers who generate realistic, graphical demonstrations of a project using a range of visualisation techniques, including BIM, 3D and walk-throughs.
MASTERPLANNING
We work with clients to devise a clear framework for the detailed design of large-scale developments, where long-term strategies or expertise in urban design are required.
WORKING DRAWINGS & PRODUCTION INFORMATION
A comprehensive set of drawings and accurate production information are integral to the success of a construction project. Combining plans, specifications and detailed information, our team can develop and produce comprehensive sets of information that provide a complete explanation of the project.
CONTRACT ADMINISTRATION
We can handle the contract administration for a project, ensuring the high-quality management of schemes from start to completion.
BUILDING REGULATION APPLICATIONS
We can help you to obtain building regulations approval for your project by providing advice or completing building regulation applications for proposed works.
DESIGN AND BUILD
We have a successful track record in being responsible for the design and build of projects, where our team oversee the design's construction, ensuring the design plan is adhered to during the phases of the project.