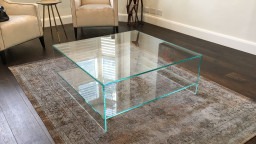 Profile
Our stunning furniture range has been meticulously curated for you by our specialist team of creatives. We are proud to offer you a selection of world class quality products; luxuriously designed and manufactured using the finest materials available to man – this truly is a range of glass furniture like no other.
Klarity is built on Design & Manufacturing know how. Importantly we are not only retailers of glass furniture we are also highly trained designers and manufacturers. Our team have over 15yrs of experience in the domestic and contract furniture market across a wide spectrum of innovative materials. Our unique setting means we are perfectly positioned to offer our customers help and advice during the buying process without the 'pushy sales'. Our knowledge means the advice you receive will truly help you find the right item for you.
We are strategically positioned in the heart of England to better serve the whole of the UK*. As a true manufacturer we are perfectly positioned to create your furniture items without the expensive high street middle man.
Whether you are looking for a contemporary glass coffee table or a luxurious glass dining table we have many designs and styles to choose from. Searching for clarity in your work-space? We offer a range of sublime Glass desks. Our Mirror range offers unique designs which add sophisticated class to any room. With many items also available in bespoke sizes to fit your precise requirement the Klarity glass furniture collection is one of the most comprehensive glass furniture collections in the UK.