You are here:
Laurameroni Srl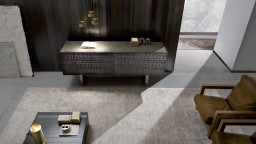 Profile
Laurameroni Design Collection is an Italian company, which realizes luxury design furniture for residential and public spaces. Laurameroni has successfully outlined its own physiognomy within the crowded world of design, realizing products and solutions for customers who look for furnishings with strong personality, in a perfect balance between art and design.
Rigorous volumes, perfect proportions, oversized dimensions, limited editions, originality, and care for details characterize the production of Laurameroni Design Collection. The finest materials, such as wood, marble, metals, glass, stone or leather combine together to create sophisticated products, with a strong identifiability. The purpose is to offer a tailor-made service where every single element contributes to build unique and customized spaces, turning the most linear and simple shapes into works of artistic skilful craftsmanship. Laurameroni added value lies also in the "Surface Design", an expression coined by the magazine Interni to define the unique treatment of surfaces, permitting to perceive the value and the real consistency just "to the touch".
Laurameroni production is divided in two main directions, Architecture and Art & Design, which share the same philosophy: "be different, be unique".
Architecture includes an exclusive range of Wall Panels, Doors, Cabinets and a Kitchen which adapt themselves to different architectural spaces, and can be combined to create made to measure systems, with the integration of specific technological solutions. Thanks to Laurameroni's flexibility, architects can design their space with expressive freedom, always maintaining a coherent and elegant design.
Art & Design consists, on the other side, of a wide set of Freestanding Furniture, Sofas and Lamps, to decorate luxury environments, conceived as exclusive spaces in which differentiation prevails. Besides, the Art Collection includes a set of limited edition dressers, realized with the sophisticated inlay technique.
Once again, the precious surfaces treatments and the use of finest materials define Laurameroni's uniqueness, enhanced by the creativity of our designers and the exceptional ability of our craftsmen.