You are here:
The London Curtain Company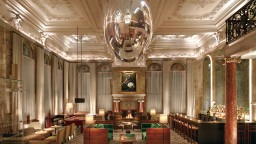 Profile
Established in 1990 The London Curtain Company has a history of being commissioned to undertake projects for private residences, boutique hotels, luxury retail and corporate environments.
By having the opportunity to work with elite designers and architects across the globe, this has given the London Curtain Company a prestigious heritage and has earned the company an international reputation for coutured luxury, artistry and flair.
Artistic Director Ashley Hubbard is the visionary and creative force that drives The London Curtain Company, a perfectionist who blends unparalleled ingenuity, imagination and experience to create window dressings and lux-living accessories that are nothing less than works of art.
Ashley's creativity was forged amongst the rigorous design aesthetic of Central St. Martin's School of Art, a star graduate; his destination was Paris and the House of Lagerfeld. Subsequently establishing The London Curtain Company, his Atelier Couture quickly achieved acclaim for redefining the window treatment industry through innovation and style-blazing design.
For decades highly successful for an uncompromising commitment to bespoke manufacture, entrepreneur Lisa Carter is director of one of the finest large-scale manufacturing facilities in the United Kingdom and co-founder of Atelier Couture exclusively for The London Curtain Company. 
At manufacturing HQ 670 square metres provides a contemporary work space non-pareil for a highly skilled production team of twenty-three and the Atelier with a Team Select of the finest craftsmen and women that are The London Curtain Company dedicated to couture.
The fusion between a traditional production method and innovative design is the golden stitch of a brand in constant evolution.  
For enquiries please contact designstudio@thelondoncurtaincompany.com
Tel: 0207 459 4636