You are here:
McCarron & Co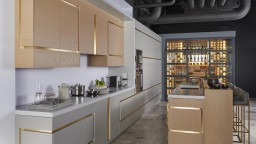 Profile
McCarron & Co was established in 2009 by eight principals with a wealth of experience and a burning ambition. We were convinced that we could make furniture better. So, we broke down every miniscule process, not just of the craft but of the business, and we put it back together again in a form that looks beautiful and works beautifully. That restless desire to find new materials, to try new techniques, to create future classics continues to drive McCarron & Co.
Every McCarron & Co product is custom-made at our workshops in Wiltshire. We place a high value on the traditional skills of our designers, carpenters and cabinet makers. Where technology can enhance or improve on the human eye and hand we make full use of that too. So, we have a 5-axis CNC machine, one of only a handful in the country, and we use sophisticated CAD programmes. But you'll also find hand-saws, planes and chisels in our workshop, and lots of sawdust.
From our first ideas meeting at one of our three showrooms – Notting Hill, Chelsea, Wiltshire – until the moment you and your client sit back and survey with pleasure your finished furniture, McCarron & Co will support you with a comprehensive design, make and install service. As designers and makers of bespoke furniture we have a real thirst to innovate, viewing every project, every client and every architectural setting as a fresh start. Combining inquisitive minds with a wealth of experience, we are constantly refining both aesthetics and ergonomics by exploring new materials and techniques. We'll put our ideas on the table – but the most important vision of all is yours.
Since 2009, we've been making bespoke luxury furniture for every room in the house – kitchens, wine rooms, bathrooms, media rooms, bedrooms, boot rooms, and our whole house projects span almost every room in the home. No matter the scale of the project, at McCarron & Co each individual piece is conceived with imagination, designed with passion and built with dedication.