You are here:
Registered Interior Designer®
Mireille Wehbe
Mireille Wehbe Limited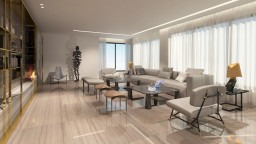 Profile
London Based Interior Architect , Mireille Wehbe Has Shared Her Taste And Expertise, In The Most Beautiful Residential And Public Interiors Around The World. Mireille Has Been Sharpening Her Eye Since Childhood, She Knows How To See, A Rare Quality Indeed. Beyond The Profession Of Interior Architect And Furniture Designer, She Offers "Curated Stories" Interiors, Artistic And Full Of Meaning, But Also Warm And Responsive To The Lives Of The Occupants. Her Vision Is Above All That Of A Lover Of Art, Passionate About Design. For Each Project She Writes A New Story, Giving It Greater Conceptual Value.  Each Job, Regardless Of Size, Takes Shape After A Long Gestation Period, Bolstered By Research Into Texture, Composition, Color, Ambience, Context And History. She Objectivizes This Impressionist Reflex Through Bold Choices And Strong Directions.
Both Mireille's Furniture Designs And Her Interiors, Favour The Key Periods Of The 1920s And 1930s, Her Work Is Known For Her Use Of Noble Materials Such As Bronze, Marble And Straw Marquetry. If She Does Contemporary, It Is Always With A Weighty Dose Of History And References, Infused Into It To Produce A Timeless Yet Timely Scenario.A Great Enthusiast Of Iconic Designs, Her Decors Feature No Shortage Of Arresting Materials And Textures Tempered With Subtle Color Palettes, Muted Tones And Impeccable Lighting. At The Crossroads Between Classical Terminology And Contemporary Aesthetics, Mireille Wehbe's Interiors Are Serene, Elegant And Dramatic As Awash With Nods To Other Time Periods, Yet Never Typical Or Literal. An Eclectic, Curated Selection Of Works By International Designers Underscores The Couture Approach. Sobriety, Balance, Comfort And Modernity Are Her Key Words. The Ultimate Perfectionist, Mireille Wehbe Conceives Each Project As A Work Of Art. Loved For Her Unique Ability To Merge The Residential Requirements Of A Domestic Space With Often Large Scale Visual Art, Sculpture And Installation Pieces, Her Studio Is Working On Projects In The UK And Across Europe As Well As In The Middle East. Alongside The Interiors Projects, The Atelier Also Produces Annual Collections Of Bespoke And Limited Edition Furniture.