You are here:
N.E.J. Stevenson Ltd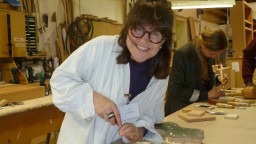 Profile
N.E.J. Stevenson provides design solutions for individuals, companies and institutions with requirement for bespoke furniture both freestanding and fitted. The company has worked in a vast range of styles and has satisfied a diverse range of clients with widely differing requirements.
We have worked extensively with English Heritage and the National Trust as well as being the preferred bespoke furniture supplier for the Royal Household. We are therefore used to working under stringent security procedures and amidst treasured interiors and collections.
N.E.J. Stevenson is committed to maintaining it's own manufacturing workshop and can therefore provide a complete service streamlining delivery and programme for the client's peace of mind. Our craftsmen have repeatedly proven themselves to be amongst the best in the country and our training and apprenticeship programmes build on our commitment to quality and customer service.
In addition to our in-house expertise built up over many years we have long-standing relationships with key specialist sub-contractors, which allow us to confidently offer a wide range of additional materials and facilities to our design and production service.