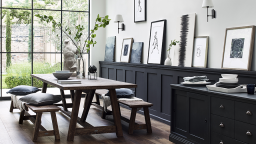 Contact
Liam Whitehead
Tel:

01793 427 300

Web:
Profile
Neptune's very-first product was a hammock, designed and made around the kitchen table in our co-founder's cottage, 25 years ago.
It was this hammock that set in stone Neptune's principles of good design - always choosing the best possible materials, crafting things properly and never picking a shortcut, taking the time to consider a design to make it thoughtful and responsive, and choosing timelessness over trends. It was this hammock too that led to Neptune setting its sights on the great outdoors, designing garden furniture for everything from sprawling lawns to city balconies. And from there they stepped inside the home to create its first, of many, furniture collections - Chichester - which then evolved into its debut kitchen.
Today, Neptune stands by those same principles, but has extended its design to cover your entire home. Furniture, flooring, lighting, paint, cushions and kitchen cabinetry - they call it their whole home concept - and it's one to last a lifetime.