You are here:
Neville Johnson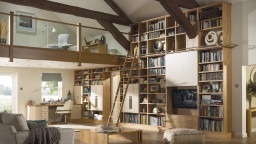 Profile
Over 25 years ago Neville Johnson began creating innovative hand crafted luxury fitted furniture for the home. Since then we have become the natural choice for high quality bespoke furniture concepts.
Neville Johnson furniture is designed to add real value to a client's lifestyle and home, embracing new ideas in both contemporary and traditional furniture design. We have a wide range of materials, from hand selected wood veneers to highly durable man-made materials.
Whether the client is just looking for inspiration or has an urgent project, our experienced and skilled designers offer a full no obligation service but also can work with specialists from other areas such as interior decorators or architects to help the client fully realise and achieve their interior design aspirations.
From the first sketch to the final polish we ensure that the client feels fully involved and engaged with the design process, as a business we are are 100% committed to customer satisfaction and it's this experience that sets Neville Johnson apart from the competition.
Whether you are looking for an innovative study, a sumptuous bedroom, a striking lounge, a library or state of the art home cinema room we can create the perfect bespoke furniture.We have also recently expanded our product offering to include a bespoke staircase renovation service.
The staircase is at the heart of a client's home and with the minimum of fuss we can transform it into a beautiful, handcrafted feature that will reward you for years to come. We will remove all the non-structural elements of the existing staircase and replace them in a stunning range of materials and finishes. From traditional timbers to contemporary glass, we have a wide choice of styles that will add a stunning piece of individual craftsmanship to any home.