You are here:
NV Integration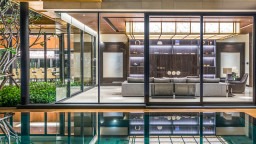 Profile
NV Integration is a smart home technology company based in Belgravia. We pride ourselves on discreetly integrating technology into our client's homes so that it is present, while not detracting from the design of the property. 
We firmly believe that no matter how intricate or complicated each system is the user interaction must be inherently simple, robust and easy to use.
We also work very hard to be 'design conscious' and are always looking for solutions that are considerate towards, or completely invisible from the spaces designers create. Our Belgravia showroom is there to demonstrate this to clients and fellow design professionals. It is designed to show what we do, how, and why we do it. It is not just a showroom but designed as a space to come and use various systems and give ideas for projects, as you would experience them in a real-world residential setting.
In 2017 NV Integration won CEDIA's most coveted award "Best Integrated Home" for a project completed in Southeast Asia. In the same year we also won "Technology Meets Design" and "Best Home Cinema".