You are here:
Registered Interior Designer®
Paul Goodchild
Goodchild Interiors Ltd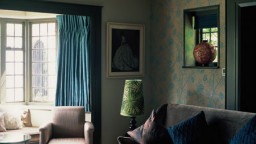 Profile
About Goodchild Interiors: Goodchild Interiors are an award winning architectural interior design and decoration consultancy run by husband and wife team, Paul Goodchild and Gill Richardson. We create stunning residential interiors that combine traditional and contemporary design ideas to produce bespoke homes of character and distinction.
Check out our website www.goodchildinteriors.net to see some of our projects. Our experience and expertise provides a comprehensive service for re modelling, restoring, extending, and in some cases providing a completely new building. We provide a high level of service throughout the design process, from concept to build, our interior decorating service providing the finishing touches.
High quality design expertise comes with experience, and with over 30 years in the profession we enjoy working with our clients, many of whom return to us when they want to refresh a scheme or extend their homes or have moved to new properties. This dedication is qualified by membership to the British Institute of Interior Design, and an affiliate membership of the Royal Institute of British Architects and the Institute for Archaeologists. With a studio in Bristol, we predominately work in London, Bath and South West England even though our clients are based all over the world.
Our project values range from 25k for one room or a select piece of bespoke joinery to 2.5M for an extensive build project. We are a small company by choice so that we can dedicate our time to quality rather than quantity. We aim to deliver a professional service without compromising our creativity. Goodchild Interiors offers a full range of tailor-made design services for clients who want to create a beautiful home and enhance the status and value of their property. All of our clients are unique. Depending on the scale and complexity of your ambitions we can dovetail as part of a full professional design team or assemble a team of our own specialists.
Our services include: An Initial design feasibility to discuss creative options Architectural and interior design concept ideas; Lighting, landscape and interior decoration concept design; Planning, listed building, building regulations applications; Production drawings and specifications; Tendering and overseeing the contractual works; Specifications and managing all aspects of the interior decoration; Bespoke designs for furniture, staircases, wallpaper, joinery or cabinet work to seamlessly integrate state-of-the-art technology and media equipment. In fact we like to be involved in all aspects of the project to ensure that your design vision is realized to the highest standards, to be on time and within budget.
If you would like to find out more about us please check out our website www.goodchildinteriors.net or better still, feel free to give Paul or Gill a call on +44  07971 449752 when we can discuss your project and find out how we could help. We look forward to hearing from you
Kind regards, Paul & Gill