You are here:
Poltrona Frau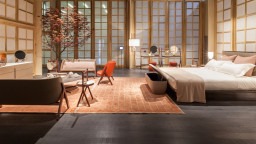 Profile
Founded in 1912, Poltrona Frau has given over a century of life and culture to leather, the brand's chosen material. A leader in top-end Made in Italy furniture and an ambassador of Italian excellence around the world, Poltrona Frau is now part of the Haworth Group, the leading American office furniture holding company, yet has stayed true to its identity and values.
Research has been part of the brand's DNA since the outset. The drive to invent new forms, construction solutions and styles has led to the creation of timeless pieces which express a universal yet intimate and personal elegance: from the Chester and Vanity Fair, attributed to the founder Renzo Frau, to Dezza by Gio Ponti and Titano, a project by Pierluigi Cerri and winner of the company's first Compasso d'Oro award and finally to recent successes such as the collections by Jean-Marie Massaud, Roberto Lazzeroni and Neri & Hu.
The factory combines manual craftsmanship with the most sophisticated technologies and meticulous quality control, where a tireless innovative spirit explores the diverse aesthetic and functional values of the highest quality leathers, all of which selected with the utmost care.
There are currently 9 collections in a total of 181 shades: Pelle Frau® leather from the Color System, Soul, Nest, Heritage, Century, Saddle, Cavallino, Cuoietto and Safari leather. Alongside these, Poltrona Frau uses fabric, wood and metal in combinations which often require the creation of new techniques.