You are here:
Rainleaf Holdings Ltd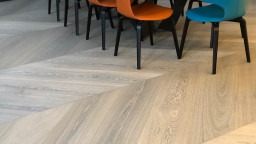 Profile
Rainleaf is a specialist wood flooring artisan dedicated in the pursuit of providing architect and interior design teams with truly bespoke wood flooring solutions.
For the last 20 years we have dedicated ourselves to forming partnerships with the world's leading manufacturers in each of the specialist areas of wood flooring. Our expertise extends from solid wood floors in the form of overlay parquet, strip and wide plank through to laser inlay marquetry and parquetry. Our specialism is with our partnership with Biehrer. Biehrer are the world's leading engineered wood flooring company producing planks lengths to 17 mts and to widths exceeding 800 mm.
2018 saw the opening of our dedicated design Studio at No 30 Pimlico Road. On display we have 40 planks to 3000mm in length and to 450mm in width. Our studio floor features douglas planks to 7000mm in length. It is a perfect space to discuss wood floors. Samples are on hand to take away in our project boxes.
Our philosophy is simple. Both product and project are our only drivers. Each floor is specifically engineered for every project. When requiring 4/6/8 or 10mm wear layers, then we engineer accordingly. Every project is sampled to a specific set of design criterior. Every design team has the opportunity to visit the factory in Germany to sign off their project material and to have the opportunity to understand what we do and how we do it in Sexau.
We install our floors and take care of every aspect of the installation from sub floor preparation through to site sanding and finishing. We work hand in hand with our partners for our sub floor prep material, adhesives and finishes, Pallmann. Pallmann independently warrantee all our installation work.
We offer design teams a wealth of independent advice in the form of CPD presentations. We have programs that take into account sub floor preparation, installation systems for all wood floors, solid and engineered wood flooring differences and site sanding and finishing. We can present these CPDs at our studio in Pimlico Road or at your place of work. We can also offer design teams educational visits to the factory in Germany.