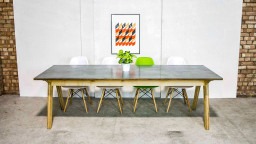 Profile
From our 20,000 sq. ft. manufacturing workshops iin Birmingham, UK we have multi-disciplinary, enthusiastic staff working on a wide range of projects including our own ranges. Our in-house skills include metalwork and woodwork. This means that we can make special one-offs (such as a beautiful copper bar for Ibis) and multiples of standard items (such as education desks).
Since we were established in 2004 our customers include many top furniture specifiers, fit-out companies and well-known brands such as YHA, Whittards and Royal Albert Hall to name a few. Take a look at our Contract Furniture Case Studies & Examples. Indirectly our products are also supplied into many large office schemes and developments.
Our dining tables and coffee tables ranges use an eclectic mix of materials. If anything characterises our work it is this use of a variety of materials, rather than just be constrained by one. We are able to achieve this as we have wood and metalworking facilities on one site. Thus, in-house we have a diverse range of skills relating to furniture manufacture. We have also introduced our Grafik Bar Stool to our website and a dining table with benches.
Dining Tables
Our range of dining tables includes regular tables with four legs to more unusual industrial style pedestal tables. Metal legs are quite common in our dining table designs, but we also have designs with wooden legs in a more traditional style. Our pieces are designed with strong basic design principles and hence might appeal to those looking for a Scandinavian dining table, for example. Durability is important to us and you will find that your purchase becomes more than a place to eat - it becomes a partner for life.
Coffee Tables
As with our larger pieces, we offer a diverse selection of coffee tables, with probably a design for everyone. Materials used include steel, wood, copper, brass, zinc and glass.