You are here:
Registered Interior Designer®
Robert Carslaw
Robert Carslaw Design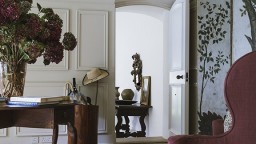 Profile
To view Robert's latest portfolio please visit www.robertcarslaw.com
Robert's commitment to keeping his practice small means that all clients work with him personally. This, he says, underpins his success as a leading designer and decorator over several decades.
'Close interaction with my clients enables me to deliver a professional service tailored to the individual' he says.
This is reflected in a portfolio of projects which demonstrates the range of this highly experienced designer across different styles and disciplines.
That Robert Carslaw Design Ltd continues to this day as one of England's leading interior design firms is testament enough, and the list of clients and their projects across varying personal briefs suggests that Robert is able to work closely with each individual to bring their hopes and aspirations to fruition.