You are here:
Registered Interior Designer®
Seana Clarke
HollandGreen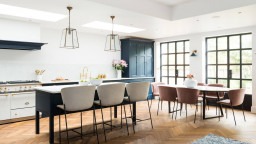 Profile
Working across HollandGreen's twin studios in Hampton, South West London and Thame, Oxfordshire we provide interior design services across London, Surrey, Oxfordshire, Buckinghamshire, Berkshire and the Cotswolds.  Our team of interior designers use their skills, knowledge and experience to create wonderful living spaces that take inspiration from their surroundings, drawing on the best classical and contemporary influences and reflecting the most deeply held hopes and aspirations of our clients.
Our interior design approach is to capture your passion and combine it with the essence of the space we have created. By understanding what makes you smile, we'll give you guidance and advice on furniture choices and technical decisions, enabling your personal design language to come together with the functional requirements, in a beautifully finished design.
We work with a wide variety of clients and tailor our services and approach to their individual needs. Your home, design language and aspirations are at the heart of the designs we produce. Broadly speaking we provide the following three types of services:
Interior Design - in its fullest spectrum, including Interior Architecture, FF&E, technical drawings, lighting layouts, bathroom design and kitchen plans. Through our commitment to creative excellence we focus on every detail from sanitaryware and lighting to ironmongery and finish specifications.
Holistic Interior Design integrated with Architectural work provided by HollandGreen. From our first meeting with you, we will closely collaborate with the team of architects at HollandGreen to capture you in the design we produce and deliver.
Interior Design in collaborationwith other design professionals - collaboration is the life blood of our interior's approach, which is why we have a vast experience of collaborating with other design professionals on projects.
Our team has a vast experience of working on a variety of projects, from complete renovations and refurbishment of highly sensitive Grade II Listed Estates to contemporary new builds. We can offer turn key service for the entire property, or work on key rooms of your choice which need an upgrade or a facelift.   
"HollandGreen were exceptionally quick at understanding the vision I had in my head, saving me a huge amount of time, helping me select countless items for the build, finding and suggesting the correct items for my style and taste time and time again." Private Client, London.