You are here:
Selectaglaze Limited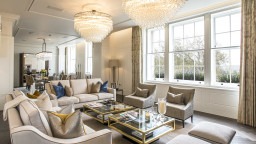 Profile
Established in 1966 and Royal Warrant Holder since 2004; Selectaglaze is the leading designer, manufacturer and installer of secondary glazing in the UK. It has a wealth of experience working in Listed buildings, as well as new build, and across a diverse range of sectors. Selectaglaze secondary glazing is a reversible adaptation, so generally accepted by heritage agencies for use on Listed Buildings and in conservation areas.
Working with interior designers, architects and designers, the Company strives to create the best solution for windows in need of thermal retention, noise insulation and/or security enhancements from a wide selection of bespoke secondary glazing.
Selectaglaze has a number of in-house designed systems, which have been carefully engineered to ensure they are sympathetic to not only the original windows, but the rooms in which they feature. The frames can be colour matched to further blend in with the surrounds. Some of the systems will still allow for the use of original shutters, found in a number of Listed buildings.
In addition to a free technical advisory service, Selectaglaze also offers RIBA approved CPD's on the design, application and test standards for secondary glazing.