You are here:
Simpsons Mirrors & Furniture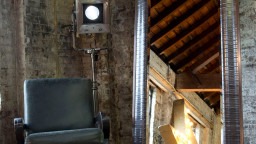 Profile
Simpsons London is a family run business, established in 1976 by Norman and Sharon Yardy. Our manufacturing base is near the Yardy's family home in Brentwood, Essex and we have a showroom in Design Centre, Chelsea Harbour.
We are now at the forefront of design-led mirror and furniture manufacturing, designing and producing exclusive and luxurious pieces that have a real "wow" factor which will enhance even the most beautiful home.
We have a friendly and welcoming team who would be happy to help with any enquiries you may have.
Simpsons' service is unique in an industry where overseas manufacturing is quickly becoming the norm. By keeping our manufacturing premises in Brentwood, Essex, we are able to tailor our products to suit individual client requirements, often working to very short lead times. Ninety-five per cent of our materials are purchased from UK based manufacturers, from the chrome capped feet, to the glass tiles and lampshades.  
We currently have ten staff producing our leading edge pieces in a variety of contemporary styles and finishes. Simpsons' staff have all come from traditional furniture manufacturing and antique restoration backgrounds. One team member actually worked on the restoration of the grand Orient Express. The same care and attention to detail which has gone into antique restoration, marquetry and traditional furniture making methods continues to be used by our staff in the manufacturing of contemporary pieces.
We expanded our range in the mid 1990's when we were asked to design a leather mirror for Sir Terence Conran. This simple, contemporary design quickly became and remains our most popular selling item. 
In 2009, Simpsons opened their first showroom in the Design Centre, Chelsea Harbour and from there the business has gone from strength to strength. In early 2016 we moved to the Ground Floor in Design Centre East at Chelsea Harbour, into a larger showroom to allow us to display more of our expanding collections. We take great pride that all of our pieces are made in Brentwood, Essex and that the business is well known not only for British manufacturing, but for superb craftsmanship as well.
Simpsons offer a range of standard size mirrors and furniture as well as a complete bespoke service. Our range comprises of contemporary designs in a variety of exotic leather, elegant glass and modern wood finishes.