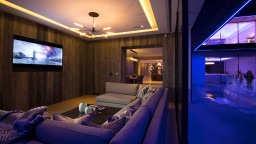 Profile
SONA design, install and support the worlds finest integrated home technology solutions.
For us - home technology is about creating heightened luxury in our clients daily rituals and enhancing those special moments that allow us connect with ourselves and others.  Truly life changing home living is about engaging the senses in a positive way and creating as many opportunities for physical, mental and emotional wellness as possible.  The only true intelligent homes, are homes optimised for personal wellness.
Our approach is never to simply sell technology, and part of our unique and award-winning approach is to truly understand and appreciate how our clients and their families enjoy any place that they call home.
Our mission is to make homes better by leveraging technology to make them more entertaining, relaxing, intuitive and enjoyable places to live.
From intelligent lighting systems to private home cinemas, air quality monitoring systems and audio video that's available whenever, and wherever - all our systems are bespoke to each client and their home, designed to seamlessly integrate with both the decor and the ebb and flow of daily routines.
We're one the most commended, and award-winning home technology professionals in Europe and one of a handful of CEDIA Members of Excellence - the highest status possible from the industry's only accreditating body