You are here:
Sterling Studios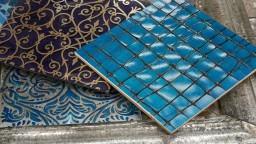 Profile
Sterling Studios is a London based creative, research-based, applied arts workshop offering an inspirational collection of bespoke decorative finishes. Since opening its doors in 2003 Sterling Studios has offered interior design professionals an ever expanding collection of finishes designed and developed in-house, created and fitted by their team of experts. Jewel like metals, embellished glass, gesso and leather, and a huge variety of painted finishes and papers are used on furniture, walls and ceilings, and joinery.
Sterling Studios is experienced in managing the demands of large projects and tight deadlines, thanks to up-to-date graphics programmes, continual investment in new machinery and technology and the support of a large, fully trained and experienced team in their 10,000+ square foot premises in London.
With backgrounds in antiques restoration, history and fine art, and with over 50 years of experience in the industry between them,  directors Francois Lavenir and Fiona Sutcliffe continue to build on a foundation of time-honoured craftmanship, developing ideas and techniques through knowledge and creativity and continuing to support and bring to life the concepts of industry professionals.
As BIID suppliers, Sterling Studios offers designers a friendly and experienced service, from commissioning a piece to the final installation, at home in the Uk or across the globe.