You are here:
Stone Age Ltd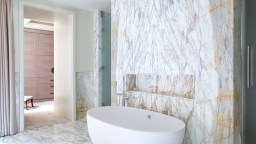 Profile
Stone Age, www.stone-age.co.uk was founded in 1988, a specialist supplier of stone flooring and bespoke stonework for both residential and commercial projects.
The business has grown organically over the last twenty five years. This strong team of 30+ is now headed up by Gary Walters and James Diver who took the helm from the original founders Jo and Richard O'Grady in February 2016. Stone Age work with a network of trusted suppliers across the world and the team is passionate about delivering the best quality stone, sourced, cut and treated appropriately.
The company currently sources and sells over 90 different stones from across the world for both internal and outdoor use. Stone Age has worked with many award winning architects and designers and is committed to providing a top class service from design concept to final installation. With an impressive range of products come in a varied palette of colours, from Irish black, through various browns, beiges, blue and green-greys to pale 'limestone' whites.
Stone Age has a dedicated masonry division based in West Hertfordshire so is excellently placed to tackle almost any design request from staircases, fireplaces and kitchen work-tops, through to wet-rooms, baths and basins. The workshop and fixing teams enable Stone Age to work directly with designers and architects on commissions and other bespoke items. Their technical knowledge base is hard to beat and they can advise on the best material to select and counsel on installation issues and maintenance as required.
From the earliest stages of a project, their team of designers and drafts people can work with a sketch or an architect's drawing to produce truly bespoke results. Their attention to detail ensures the final product will be expertly made, beautifully finished and superbly fitted.
Stone Age pioneered the pre-drying and treating of stone in the UK prior to installation. The company has showrooms in London, Bristol and Hertfordshire and a factory and warehouse facility in Hertfordshire.