You are here:
StoneCIRCLE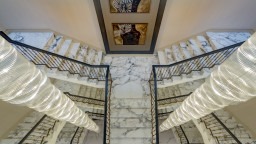 Profile
stoneCIRCLE's passion is to take nature's most enduring resource and transform it into the finest finishes, furniture and artefacts using traditional stonemasonry skills and the very latest technology in the biggest stonemasonry factory in southern England.
In the over 50 years since its foundation the company has developed into one of the largest in the UK with a team of skilled and dedicated staff striving to deliver exceptional service to its customers. The staff are committed to providing knowledgeable advice on all of the materials they work with and can source the perfect stone for your project.
stoneCIRCLE works with designers, architects and artists on both domestic and commercial interiors and was highly commended for its work on the Harrods Fine Watch Room at the 2018 Natural Stone Awards.